Conventions & Meetings
Visit Hagerstown is proud to provide planning support to social, military, educational, religious and fraternal organizations. With flexible meeting space our area venues and facilities are designed to fit your group's needs.
Our Group Sales Department will assist in planning your event as well as providing valuable resources to ensure a successful event. We offer a number of complimentary convention services tailored to align with your meeting goals.
Convention Services
Request for Proposal (RFP) Distribution
Site Inspections
Lodging Assistance
Dignitary Liaison
Welcome Packets
Promotional Banners
Registration Services
Name Badge Assistance
Transportation Service Referrals
Marketing Assistance and Public Relations
Familiarization Tours
Itinerary Suggestions
Entertainment & Speaker Recommendations
We'd love to be the host destination for your next meeting, conference, or gathering. Click here to
Submit an RFP
Ramada Plaza Hotel
1718 Underpass Way
Hagerstown, MD 21740
P: 301-797-2500
Website
|
(I-81, Exit 5A). Located in Hagerstown, MD the Plaza Hotel provides the most pleasing accommodations at reasonable cost, and pleasant surroundings, conveniently located at Exit 5A (Halfway Blvd.) on 1-81,…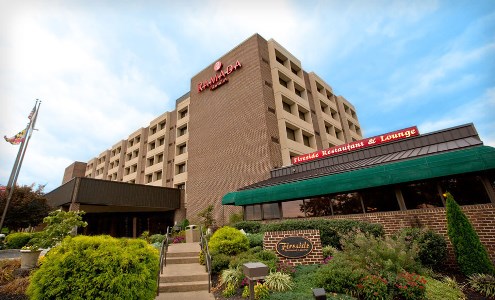 The Plaza Inn & Suites
931 Dual Highway
Hagerstown, MD 21740
P: 301-733-5100
Website
|
Whether traveling for business or pleasure the Clarion Hotel is sure to meet your needs. Hotel with large atrium.