Stone Arch Bridges - Hagerstown MD Attractions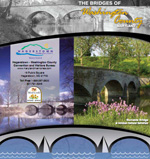 The Hagerstown-Washington County Convention and Visitors Bureau welcomes you! Rich in history and heritage, recreation and shopping, our county is also known for more than 21 historic stone arch bridges.
Please use this brochure to visit our amazing legacy in stone: our Washington County bridges. Like the elders of a lively family, they are a surviving gift that helps remind us who we once were, who we are, and to give us a firm foundation upon which to build our region's future.
Click Here for The Bridges of Washington County Maryland Brochure.