April 3, 2015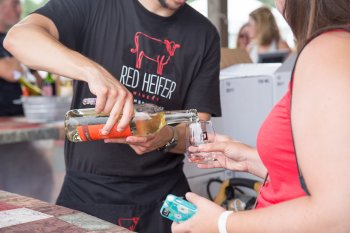 Click on image to enlarge
Updated: 3-7-16

No matter when you visit Hagerstown, Maryland, you will find no shortage of things to do. A variety of festivals are on the schedule year-round, including holiday events, food fests, arts and music events, and cultural and historic celebrations. Here are the top 11 festivals to help you plan your trip to Hagerstown.


1. QUAD STATE BEER FEST: SHAMROCKED! (March 12, 2016)
Held at the Ag/Ed Center omn Shaprsburg Pike. Support Breast Cancer Awareness-Cumberland Valley By Sampling Over 50 Local Beers While Celebrating St. Patrick's Day With Popular Local Rock Music!

2. MARYLAND INTERNATIONAL FILM FESTIVAL (April 1-3, 2016)
EXPERIENCE IT! Now in it's 5th year, the MDIFF will be showing 80 of the finest films from across the world! New this year, attendees can sign up for the VIP Opening Party and meet THE WALKING DEAD actress ANN MAHONEY and TERMINATOR GENISYS actress Kerry Cahill. They will also be on hand to teach acting classes during the festival! The MDIFF is conveniently held in downtown Hagerstown, in the middle of the Arts and Entertainment District. And after the films they host some of the best after parties with live bands and fantastic food and drinks!
3. Leitersburg BBQ Festival (April)
This brand-new festival exists for one purpose: to celebrate barbecue. Go hungry (and bring cash) to Ruritan Community Park in Leitersburg, because there will be lots of local barbecue to sample. You can burn those calories with the rock-climbing wall and bounce house, and enjoy other games like cornhole and giant Jenga.
4. Bonanza Extrvaganza (May)
The Bonanza Extravaganza is an annual charity event, held by the IAFF Local 1605, to help raise money to fund health & welfare improvements for residents of the Greater Hagerstown area. Thousands in cash and other prizes given away each year! What would you do with 100,000 dollars? 10 of their attendees have found out! The 11th could be YOU!

5. Western Maryland Blues Fest (May)
Whether you're a fan of blues music or think you're not, the annual Western Maryland Blues Fest is a fun event for the whole family. More than 15 artists play during the four-day event, and other activities are scheduled, such as the Family Blues Picnic and children's activities.
6. Taste of the Valley Food & Wine Festival (June)
Ring in summer in Hagerstown with the annual Taste of the Valley Food & Wine Festival at the Washington County Agricultural Education Center. Dozens of local restaurants and more than 20 area wineries, such as Knob Hall and Red Heifer, have their favorite dishes and beverages to sample. A number of art vendors set up shop in the concurrent Fine Arts Fair.
7. MD Symphony Orchestra Salute to Independence (July)
Spend your Fourth of July in one of the United States' key historic locations. Make your way to Antietam National Battlefield for an evening concert followed by a grand fireworks show.
8. Augustoberfest (August 27-28, 2016)
This two-day festival boasts festivities found at traditional Oktoberfest celebrations in Bavaria. Entertainment, food, a charity walk and a German car show—you won't want to miss a thing. And don't forget to bring the kids—there's fun for them, too! The popular Kinderwunderland is an expanded children's entertainment area featuring a variety of activities and entertainment for the youngest Bavarian enthusiasts.

9. Hispanic Festival (September)
September is Hispanic Heritage Month, and you can celebrate it at Hagerstown's annual Hispanic Festival at the Fairgrounds at Hagerstown. Take in the Hispanic culture through music, food, entertainment, soccer and kids' activities. Proceeds benefit Hispanic students at Hagerstown Community College.
10. Alsatia Mummer's Parade (October)
If you're in town in late October, you won't want to miss Alsatia Mummer's Parade, one of Hagerstown's oldest annual events and one of the largest nighttime parades on the East Coast. Costumed mummers lead the procession in downtown Hagerstown, and it's a sight you won't want to miss.
11. Trains of Christmas (November-January)
Hagerstown knows how to get into the Christmas spirit, and this is shown from November through January during the Trains of Christmas event at the Hagerstown Roundhouse Museum. The exhibit is open every weekend, and the snowy train scene is a favorite for kids and adults.
12. Annual Illumination at Antietam (December)
If you're in town in December, you must make plans to visit Antietam Battlefield for its annual illumination. More than 23,000 candles are lit in the evening to honor each soldier killed, missing or injured during the Battle of Antietam, and this touching exhibit is not to be missed.