October 1, 2015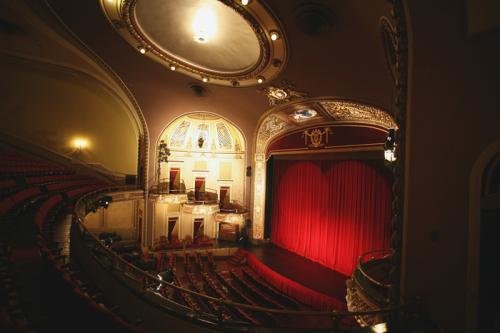 Click on image to enlarge
Whether you want singing, dancing, painting or sculpting, you can find it in Hagerstown, Maryland, which is bustling with creative people and home to fantastic art collections. Visitors will have a renewed appreciation of Maryland's art and culture when exploring Hagerstown. Here are 10 places to go or things to do to enjoy Hagerstown's arts scene.
1. Hagerstown's Arts and Entertainment District
Hagerstown's City Center has impressive historic architecture, urban infrastructure, cultural amenities, and a number of places to create, live and learn. The designated Arts and Entertainment District has impressive performance spaces, art galleries, wonderful restaurants, museums, education centers, retail stores and more.
2. Maryland Theatre
Anchoring the Arts and Entertainment district is the Historic Maryland Theatre on South Potomac Street. The 100-year-old theater hosts great ballet classics like "Swan Lake." The theater also shows Broadway adaptations such as "Grease!" and "Motown Tonight!" It's also the home of the renowned Maryland Symphony Orchestra, a group of professional musicians that have been a cultural staple in Hagerstown since 1982.
3. Washington County Arts Council Gallery
The Washington County Arts Council and Gallery is prominently located in the heart of the Hagerstown Arts and Entertainment District, where visitors can enjoy and shop local artisan exhibits.
4. Just Lookin' Gallery
Just Lookin' Gallery features African-American paintings and prints. Guests can browse through thousands of artworks centered around the Harlem Renaissance, blues musicians, slavery, and portraits of prominent figures like Zora Neale Hurston and Langston Hughes. All of the artwork is for sale, and the gallery often hosts special showings on new featured collections.
5. Washington County Playhouse, Dinner Theater and Children's Theater
The Washington County Playhouse, Dinner Theater and Children's Theater offers a delicious dinner and theater featuring Broadway style shows, salad bar, buffet, dessert and a full bar.
6. City Park: A Cultural Center
Considered by many to be the crown jewel in the city's park system, historic City Park is home to the Jonathan Hager House & Museum, the original homestead of the city's founder, Jonathan Hager. City Park is a picturesque collection of museums, man-made lakes, wooded walking trails, picnic facilities and active recreation facilities. It is also home to the Washington County Museum of Fine Arts, the Hagerstown Railroad Museum and Engine 202, and the Mansion House Art Center. City Park was recently named the No. 1 most beautiful city park in America.
7. The Washington County Museum of Fine Arts
Immerse yourself in high art by browsing more than 7,000 works of art at The Washington County Museum of Fine Arts, the anchoring museum of City Park. Visitors are able to view pieces from artists from the 18th to the 20th century like Norman Rockwell, Rodin and Picasso. Guests can also view priceless vases and bowls made by Louis Comfort Tiffany and nouveau potteries from Rene Lalique. Plan in advance to learn about special showings such as the photography of Dorothy Allison or the landscape art of Philip Koch.
8. Mansion House Arts Center
Also in City Park, you can support local artists by visiting Mansion House Arts Center. Built by John Heyer in 1846, the Mansion House is a popular arts destination in Hagerstown. The house-turned-museum is run by The Valley Art Association and has an impressive collection of works by area artists. Guests can purchase artwork including lithographs, silk screens, etchings, wood block prints and collages.
9. Hub Opera Ensemble
Hub Opera Ensemble is an organization that encourages young people to pursue careers in opera. Visitors can listen to young professionals belt out their best high notes at Kepler Theater or Hagerstown Community College.
10. Antietam Recreation
Show your patriotic spirit by participating in an Americana dinner show at Antietam Recreation. While guests feast on hamburgers and sundaes, singers and dancers perform a show telling the history of the United States. Some of the best dinner show events throughout the year include a Cowboy Christmas around the holidays and a Valentine's Day special that includes a romantic show and three-course Italian dinner.