September 23, 2022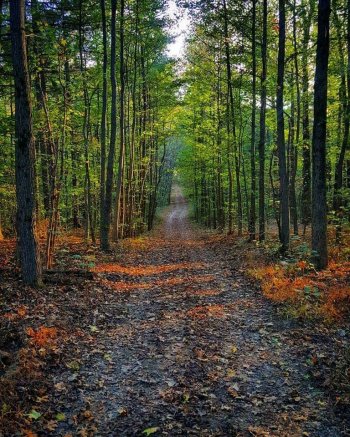 Click on image to enlarge
The Best View is Yours in Washington County, MD!
Hagerstown and our quaint historic towns in Washington County, MD lie within Maryland's eastern border of Appalachia, and fall is one of the best times to visit. Visitors love to binge-watch our gorgeous, vibrant bursts of fall foliage once temperatures start to drop. So grab your camera and visit these six places throughout the county for Instagram-worthy shots of fall's changing colors.
1. Fort Frederick and Sideling Hill Rest Area
Driving west on I-70, you come to Fort Frederick State Park where frontier times American can be discovered. This 585 acre park features a unique stone fort that served as Maryland's frontier defense during the French and Indian War. The park borders the Potomac River, and the Chesapeake and Ohio Canal passes through the park. The park also features a boat launch, campsites, camp store, fishing, flat water canoeing, a hiking trail, interpretive and educational programs, picnicking, a playground, and a shelter.
Just after Hancock along I-70, lies Sideling Hill, a geographic marvel within a 3,000-acre area of lush wilderness and mountains. Also a MD State Welcome Center, the rest area transforms, turning into whimsical shades of gold and red. There's a 126-step trail that leads you over large rock formations for a breathtaking aerial view of Sideling Hill.
2. South Mountain State Park
The 13,000-acre South Mountain State Park in Boonsboro is a popular destination for hikers and nature enthusiasts, where thy can explore the various multi-use trails and climb several high peaks like Black Rock and Weverton Cliffs to get a view of the region from above. The Appalachian Trail covers a 40-mile ridge atop this mountain. Start at the Washington Momument, which is the first completed monument to the nation's first president. The view of the valley is spectacular!
3. Gathland State Park
The famous Civil War journalist George Alfred Townsend established his estate and designed two structures at Gathland State Park during the 1800s. Today, visitors can walk among the historic Main Hall and Lodge, now showing exhibits from the era, and check out a national monument dedicated to soldiers of the Civil War. Bring lunch; Gathland has a reserved picnic area that overlooks the park.
4. Greenbrier State Park
In Boonsboro, Greenbrier State Park is a 42-acre area with a man-made lake and beach. In fall, visitors flock to the park to get active with canoeing, hiking and fishing. Public grills, picnic tables and playgrounds are available at the park for families to use and enjoy. Nature lovers can camp overnight to further immerse themselves in fall beauty.

5. Washington Monument State Park

Located atop South Mountain, Washington Monument State Park is named for the first completed monument dedicated to the memory of George Washington. The Washington Monument is a rugged stone tower that was initially erected by the citizens of Boonsboro in 1827. The monument makes it an ideal site for spotting migratory birds such as hawks, eagles and falcons, especially in mid-September.


Learn more about our our 8 State Parks, national parks and waterways: https://www.visithagerstown.com/things-to-do/recreation/parks-trails-waterways