June 4, 2015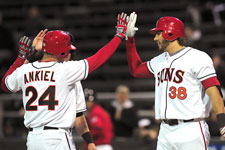 Click on image to enlarge
Baseball is a way of life during the summer, and in Hagerstown, Maryland, the local minor league Hagerstown Suns team has been a longstanding pride in the city, celebrating its 10th anniversary of being a Washington Nationals affiliate. It's common for fans from around the area to come into town for a weekend filled with Suns baseball, but there's a lot to explore outside Municipal Stadium. Here are some fun things to do on a trip to Hagerstown in addition to seeing the Hagerstown Suns play.
1. Grab some pre-game snacks or dinner at Benny's Pub. Situated inside the Antietam Brewery, Benny's is the perfect place for delicious, organic bar food like wings and bourbon burgers. The pub is a popular meet-up for die-hard Hagerstown Suns fans to celebrate their favorite team. Inside the pub are rows of distillery barrels, and live bands often play out front. Benny's is offering their special brew, "Bases Loaded" beer, crafted for the Hagerstown Suns 35th anniversary season.
2. Go to Krumpe's Do-Nuts for a late-night snack. Esquire Magazine called Krumpe's one of the top spots for "best late night food in the U.S.A." It's a place where you can try favorites like chocolate, cream-filled Long Johns and traditional glazed donuts, but don't try to stop by in the morning. Krumpe's is only open Sunday to Friday from 7 p.m. to 2 a.m. "Same family, same recipe, same perfect doughnuts since 1934," wrote Esquire.
3. Tour nearby Antietam National Battlefield. If you're in Hagerstown for a weekend, you should make a point to learn a little about the area's place in American history. Known as the site of the bloodiest one-day battle in the history of American conflict in the fall of 1862, the Antietam National Battlefield is a beautifully preserved Civil War grounds with monuments and a historic cemetery on-site. The restored Dunker Church on the grounds served as a focal point during the fight, marked with hundred of bullet holes and battle scars after the fight. It was later reparied and rededicated as church for local Dunker farmers until the early 1900s. Tour guides in confederate uniforms can answer any questions about the artillery on display and the history of the Civil War.
4. Visit Doubleday Hill Monument. Baseball fans in Hagerstown to see the Suns play should stop at the Doubleday Hill Monument for a history lesson about both the Civil War and baseball. Located just outside Hagerstown in Williamsport, this famed Civil War monument was erected in 1897 to commemorate the crossing of the Potomac River. Major General Abner Doubleday, who played a pivotal role in the Battle of Gettysburg, and his soldiers used the hill as a strategic lookout point during the war. Despite Doubleday's accomplishments, he's better known as the sometimes-disputed father of baseball.
5. Go shopping. If you're in town for a weekend, check out some of local shops to take home anything from Hagerstown Suns gear to a one-of-a-kind antique. Valley Mall is the city's most popular place to cross things off your wish list. It's home to department stores like Macy's and Sears, but it also has local jewelers and boutique clothing shops. For outlet shopping, head over to the outdoor Hagerstown Premium Outlets. And for antique collectors, don't miss Funkstown, which is as cool as its name suggests for collectors. Downtown is lined with antique stores that have a great selection of typewriters, retro clothes and photographs. Visitors who don't want to venture far from downtown Hagerstown can find plenty of shopping opportunities in the area, including places like the Fine Arts Company where you can purchase an art piece as gift for a friend or family member.