February 20, 2021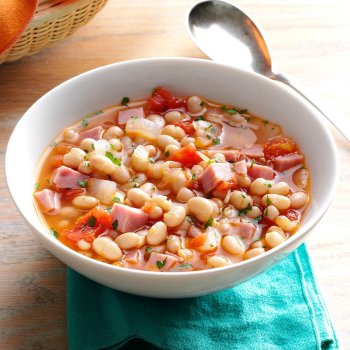 Click on image to enlarge
Boatman's Bean Soup
Credit: Rose Harris, Owner of Desert Rose Café in Williamsport, Maryland Available at the Café throughout this 50th anniversary year.
Inspired by the book "Home on the Canal" by Elizabeth Kytle.
SERVES 6 (large, hearty bowls) INGREDIENTS
• 1 pound great Northern beans or navy beans
• 2 quarts water (I never measure the water exactly, but use enough to cover the beans with ½ inch to 1 inch of water)
• 2 medium Irish potatoes, diced
• 1 large onion, chopped (I use a yellow onion)
• 1 large ham bone or ham hock (cut lean meat off)
• 1 pint of canned tomatoes or 4 large ripe tomatoes, cut up
• Leafy garnish
TWO THINGS TO KNOW ABOUT THE HAM BEFORE YOU BEGIN
• Using dried and salted meat is important, because the salt from the meat will season the stew and give it a nice flavor. Ham bone and ham hock can be found at many local grocery stores or butcher shops. This recipe can also be made without meat, but you'd need to use additional herbs and seasonings for flavor.
• When you add the ham hock or ham bone, you can add the entire thing without removing the meat first, then remove the meat from the bone once it's cooked. (You'd keep it in the soup while removing the bone.) Alternatively, you can remove the meat from the bone first, then add both the meat and the bone to the soup. Remove the bone once the soup is done.
DIRECTIONS
1. Soak beans overnight and drain.
2. Put beans in a soup pot and add water. I like to cook the beans in the water for 5 to 10 minutes before
adding the other ingredients to soften them a bit. When they're cooked with the rest of the ingredients, that creates a creamier base for the soup. (Note that you may need to add some additional water along the way, as the beans cook throughout this process.)
3. Add potatoes, onion and ham bone and cook covered and at a gentle simmer, until the potatoes are done but still firm. This will take around 15 to 20 minutes.
4. Add tomatoes and cook for 30 more minutes.
5. Season to taste. If you use a salted dried meat, make sure to try the soup before adding more salt. I often do not add any seasoning, though I would imagine that some fresh thyme would be a nice touch.
6. Garnish as desired.