June 30, 2023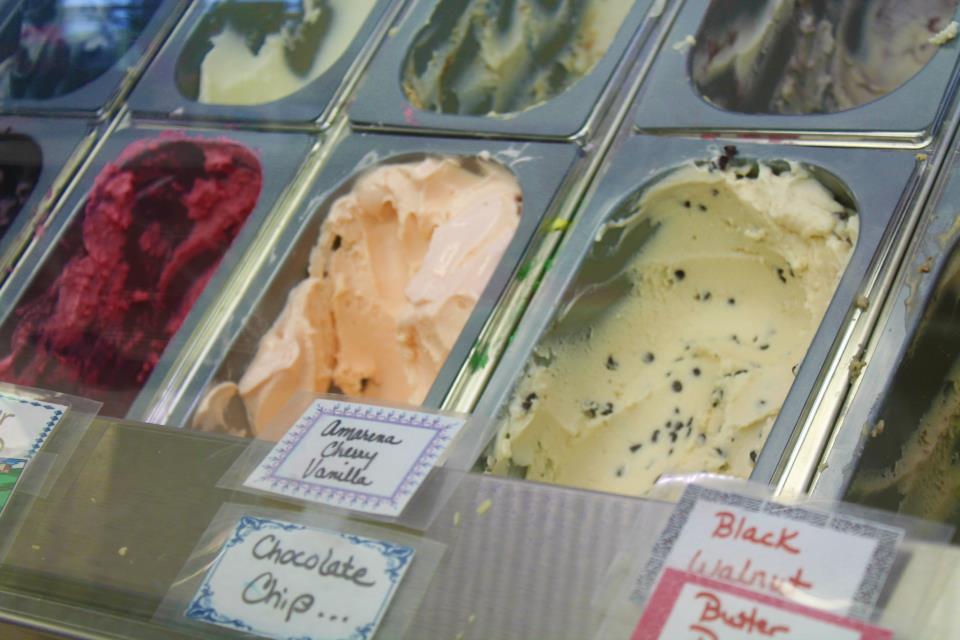 Click on image to enlarge
We've got the Scoop on Ice Cream! From Cow-to-Cone creameries, to local wine-flavored delights, and everything in between, Washington County has some of the best ice cream in the region.
Misty Meadow Farm Creamery, located in Smithsburg, is Washington County's first and only farm creamery. The family owned and operated business processes milk from its dairy cows into ice cream. The homemade, hand-dipped, cow to cone ice cream is a rich, delightful treat that comes in 30 different flavors. In addition to special seasonal flavors, the menu includes sugar free gelato and dairy free sorbets. Enjoy a cup or cone or have your ice cream transformed into a milkshake or sundae. You can also get your passport stamped here at this official stop on Maryland's Best Ice Cream Trail. Spend some time enjoying the animals and activities. The young and young-at-heart will love the cows, goats, sheep, pigs, bunnies and more! Misty Meadow Farm Creamery is open daily so be sure to check their Facebook page for their current hours.
The Meadows Original Frozen Custard has been around since 1950, but came to Hagerstown just over a decade ago. It serves up rich, delicious frozen custard in the South Pointe Shopping Center where you can enjoy the retro 50s-style ice cream parlor with music from the era or you can eat outside. There's even a drive through and walk-up windows. The Meadows offers special daily flavors, made fresh every day. For their biggest fans, they offer an e-mail subscription service for the flavors of the day. You'll love the special sundaes, smoothies, artic swirls and treats at The Meadows, like the Black Cow and the Apple Dumpling Sundae. In addition to frozen custard, Italian ice and gelati are also on the menu.

Another favorite of both locals and visitors is Nutter's Ice Cream, near Antietam National Battlefield, in historic Sharpsburg. Their motto is "When it comes to ice cream, size matters!" and they live up to it! Milkshakes, Flurries and Sno-Cones are just some of the cool treats they offer. It is a must-do for anyone visitng the battlefield.

Near the C&O Canal in Williamsport, Cyclists, hikers and other patrons can enjoy locally made, hand-dipped ice cream from Antietam Dairy. There are many traditional flavors and seasonal favorites along with unique flavors like Teaberry, Razmatazz (Raspberry with Oreo) and Coconut Chip Almond. The staff prides themselves in "Serving Karma by the Cup, Cone and Confection." Also in WIlliamsport, Scoop-A-Licious & More offers batch churned ice cream & soft serve, and is just few minutes drive from the Canal.

The town of Hancock, Maryland's officially designated Trail Town, offers two great options. Buddy Lou's, with flavors for Fido, located right off of the C&O Canal towpath and Western Maryland Rail Trail. What could be better than a bike ride and ice cream?

The Big Dipper in Hagerstown is a locally owned and operated, mom-and-pop store that has been in business in Hagerstown, MD for over 30 years. Outside tables make it the perfect place to grab a scoop and enjoy the stars in the night sky!

There are many other consideratiions, and this list is not all-inclusive, click some of these links for more info: Maugansville Creamery Debbie's Soft Serve, Potomac Street Creamery, and Sweetsie's East & Treats, are locally owned shops. Some favorite franchises include: Friendly's, Rita's Italian Ice Cream, Brewster's Real Ice Cream, Dairy Queens, and Baskin Robbins.
This summer, beat the heat with some of Washington County's most delicious cold treats. There's a wide variety to choose from so you'll never grow bored!