August 30, 2019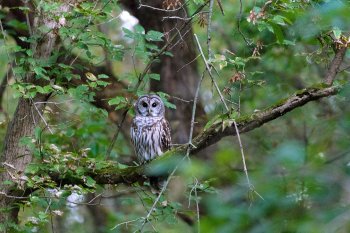 Click on image to enlarge
Bird·watch·ing
/ˈbərdwäCHiNG/
noun:
the practice of observing birds in their natural environment as a hobby.
Do you enjoy birdwatching, either as a casual enthusiast or a devoted bird lover? Washington County has an abundance of public lands and parks. Its geography, topography, and diverse habitat make it the perfect destination for your next birdwatching adventure. Whether you have a weekend or an entire week to spend, you're sure to be delighted by the vast birding opportunities here!
If you've been a bird enthusiast for some time, you know it's a hobby that offers wonderful opportunities to learn about different kinds of birds, their behavior and their habitat. Birdwatching keeps you moving and connected to nature, which is scientifically proven to be beneficial for both the mind and body. Not only does birdwatching lead you to explore places off the beaten path, but you're surrounded by the beauty of natural habitats.
Your birding adventure begins with a place to call home base. Depending on your personal lodging preferences, you can choose from primitive campsites, lock houses on the C&O Canal, cabins, guest houses, bed and breakfasts, and a full range of hotels. Many of our non-hotel lodging options are nestled along scenic byways, overlooking many of Washington County's most scenic landscapes. You can be as close to the birds and nature as possible, or enjoy modern comforts and amenities before heading out to immerse yourself in nature.
You'll want to make sure you've had a delicious meal before heading off the beaten path for your birdwatching adventure. Fortunately, there's no shortage of dining opportunities. From fine dining to neighborhood pubs and grills, bustling eateries, diners, delis and fast food chains, you'll find something to satisfy your taste buds and fill your belly. If you plan to head out on the trail for the day and don't want to interrupt your birdwatching to go eat a meal, several establishments offer boxes lunches you can order and take with you. It just requires some advanced planning.
As you travel to access many of the prime spots for birdwatching, your journey will most likely be along one or more scenic byways. Whether you're on the Maryland Historic National Road Scenic Byway, The C&O Canal Scenic Byway, or the Antietam Campaign Scenic Byway,
You're sure to discover quaint towns filled with charming shops, cozy dining establishments and unique treats and sweets. Along the way you'll see beautiful landscapes rich in history and of course, nature!
While exploring these scenic parts of the county, you're likely to uncover hidden gems and experience wildlife encounters with more than just birds. Quiet time spent in nature is restorative for the mind, body and soul. You're sure to experience its healing powers, but also be mindful of ticks and Maryland's two venomous snakes. Also be aware that the county is habitat for black bears.
You can plan your birdwatching adventure for just about any time of year. Spring, especially May, is prime time for birdwatching in Washington County, and Autumn is a beautiul way to see habitats in scenic fall colors. Many birds that have migrated to Central and South America are now returning to the area to breed, plus there are year round residents like cardinals and chickadees to enjoy. Click here for more information about bird watching and bird trails in Washington County.

Photo Credit: John Canan, Canan Photographic