August 7, 2015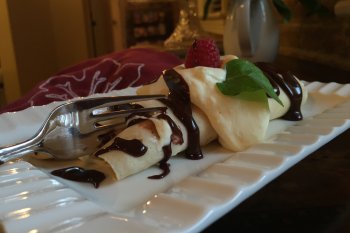 Click on image to enlarge
If you want delicious, local foods and restaurants that are housed in charming, pre-Civil War buildings, then Hagerstown and Washington County should be your next foodie destination. Whether you want pizza, high afternoon tea or Maryland seafood, head to Hagerstown and try one of these 14 top places to eat and drink in the area.
1. Vesta Pizzeria
Bestselling author Nora Roberts and her husband opened up Vesta Pizzeria in Boonsboro to share their love of Italian food. Diners can enjoy the colonial style restaurant with appetizing dishes such as chicken parmesan, the famous roast beef and provolone and many creative pizzas with unique toppings. But for the ultimate dish that's begging to be shared with friends on social media, order Vesta's own fried macaroni and cheese.
2. Dan's Restaurant & Tap House
Also owned by Roberts, Dan's Restaurant & Tap House is one of the most popular spots in Boonsboro and Washington County. Locals who want a relaxing atmosphere with multiple craft beers on tap or and wine varieties come to Dan's. You can order gourmet bar food like Rise and Shine burgers with a side of fried asparagus, or crab criminis (mushrooms stuffed with crab meat). Each weekday has its own happy hours such as Wednesday Beer of the Day and Thursday Hipster Night, so plan accordingly.
3. Washington County Playhouse & Dinner Theater
Why eat in a regular restaurant when you can enjoy a live play during your feast? At Washington County Playhouse & Dinner Theater, diners can help themselves to an impressive buffet with hot dishes, salads and desserts while watching quirky plays like "Murder at Howard Johnson's" and "Cabaret." Families with younger children can come during kid-friendly plays such as "Sleeping Beauty."
4. 28 South
For a hip atmosphere, head over to 28 South in Hagerstown and dine on fresh seafood from Maryland's shore. Diners can eat delicacies like shrimp salads, Agave scallops on a bed of risotto and grilled salmon. Pizzas and other non-seafood dishes are also offered on the menu. Guests can opt to sit at the open bar to order light meals and cocktails at the urban restaurant.
5. The Gourmet Goat
Deli by day, glitzy restaurant and bar by night—The Gourmet Goat has been known to impress martini and cocktail fans with its large drink menu. Its contemporary decor and chic vibe make this restaurant one of the most popular hangout spots in Hagerstown. Come hungry, because Gourmet Goat has a lunch, dinner and tapas menus along with its drink menus.
6. Bulls & Bears
Bulls & Bears is a cozy pub that's a perfect place to unwind after work. Its New York style atmosphere compliments its menu with dishes that have catchy names like "Wall Street Wings" and "Hub City Salad." Be sure to order the most popular and unusual appetizer: crab pretzels covered in oozing cheese.
7. Schmankerl Stube Bavarian Restaurant
If you're craving a bratwurst or schnitzel with an ice cold beer, then Schmankerl Stube Bavarian Restaurant is your place. Like the name suggests, it doesn't get more authentic than this outside of Germany. The staff is authentically clad in Bavarian lederhosen and dirndls, and will happily make suggestions for the best wieners on the menu. Enhance your Bavarian experience by ordering your German beer in a boot glass, and make sure to save room for the apple strudel.
8. Bonnie's at the Red Byrd
Bonnie's at the Red Byrd has been a Hagerstown staple since 1958. For generations, locals have been coming to Bonnie's for old-fashioned American cuisine like club sandwiches and burgers. It's also a great place to stop by for a bite after touring the Antietam Battlefield since it's only minutes away.
9. Dollie's Tea Room
To feel like a distinguished lady or gentleman, snack on some scones at Dollie's Tea Room in Clear Spring. It's complete with charming British decor and floral fine china plates and cups. Diners can live like royalty with towering platters of cookies, finger sandwiches, fruits and dessert while sipping on high quality teas.
10. Big Cork Vineyards
Big Cork Vineyards is a 100-acre oasis for wine lovers to sample award-winning vino. Wine enthusiasts can go on a tasting tour and stick around to grab a meal or cheeseboard with a breathtaking view of rolling hills and grapevines. Guests can also enjoy the rustic interior that includes exposed beams and chandeliers.
11. Old South Mountain Inn
History lovers and foodies will want to swing by Old South Mountain Inn to immerse themselves in the antebellum/Civil War building and decor. Diners can order traditional meals like pork chops, soup and oysters. After the feast, you can take a self-guided tour around the inn.
12. Desert Rose Cafe
In Williamsport, Desert Rose Cafe is known for its gourmet sandwiches and pastries. Set up like a coffee shop and an old-fashioned diner, this cafe is a favorite among locals to meet up and relax over fresh coffee. Desert Rose has plenty of comfortable seating and a bookshelf with complimentary titles to browse. Vegans and vegetarian options are also available at the cafe.
13. Weaver's Restaurant and Bakery
Guests with a sweet tooth will enjoy the various pastries, pies and cakes at Weaver's Restaurant and Bakery in Hancock. Diners can also sit in for a traditional breakfast or cheeseburgers, but save the best for last and order a slice of caramel apple pie.
14. Buddy Lou's
Kill two birds with one stone by shopping and dining at Buddy Lou's. Diners can enjoy delicious BBQ chicken salad or fresh lobster rolls with craft beers or wine. Once guests finish their Brownie Mud Pie Sundae, they can browse through the restaurant's own antique shop to purchase vintage games, toys or furniture.

It's hard to narrow it down to just a handful of restaurants, though. Visit our Eat & Drink section of the website for more!