February 10, 2016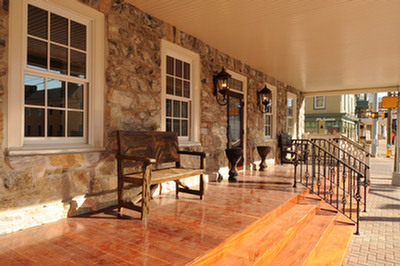 Click on image to enlarge
Home to historic buildings from the 18th and 19th centuries, bustling nightlife, and cozy bed and breakfasts, Hagerstown is one of the best places in the region to escape for a romantic getaway. If you and your partner are history buffs, Hagerstown and Washington County are great destinations for learning about the county's Civil War history. So many parks in the area are impeccably maintained. In fact, Escape Here named Hagerstown the No. 1 destination for beautiful city parks in the entire country. If you're planning a trip to the area for a sweet romantic getaway, here are 12 of the most romantic things to do in Hagerstown and Washington County—some better suited for warmer temperatures.
1. Jonathan Hager House
Believe it or not, the city was founded in part by a love story when Jonathan Hager settled in the area in 1740 and built a house for his wife, Elizabeth. He was so smitten with his bride that he named the town after her, "Elizabethtown," which was later changed into Hagerstown in 1813 by the state legislature. Before his death, he was largely active in starting up new businesses including the John Wesley United Methodist Church. Today, the original Hager House that Jonathan gifted his bride is open and available for tours. Couples can go on a romantic adventure through the house to admire vintage furniture and decor that has remained in immaculate condition since the 18th century. Tours are only available through appointments, so book in advance.
2. Inn Boonsboro
Get the full idyllic Hagerstown experience by staying overnight at the Inn Boonsboro (pictured), a bed-and-breakfast owned by the famous romance novelist Nora Roberts. Lovers will be delighted to find each room at the inn is named after famous literary couples like Elizabeth and Darcy (Pride & Prejudice), Marguerite and Percy (The Scarlet Pimpernel), and Westley and Buttercup (The Princess Bride). The inn has a mixture of Victorian and modern furnishing, and couples can enjoy gourmet breakfasts together in the dining area. The inn is known for its convenient location to several of Hagerstown's historical hot spots like Antietam Battlefield and Harper's Ferry. To continue the romantic Nora Roberts experience, swing by Turn the Page, a bookshop also owned by the author. Roberts also owns two family-run restaurants, Tap House and Vesta Pizzeria.
3. Hagerstown's Arts & Entertainment District
Take your date to the heart of Hagerstown—its Arts and Entertainment District—where dozens of restaurants and bars await. Fantastic restaurants include 28 South, a locally owned American fare restaurant with a bohemian atmosphere, Schmankerl Stube for Bavarian cuisine, and Bulls & Bears, a cozy pub with a New York menu. Within walking distance to all of the restaurants, the Maryland Theater is a fabulous place to continue your date. It's home to the Maryland Symphony Orchestra, which never disappoints during its performance in the 1915 theater.
5. Washington County Playhouse and Dinner Theater
Kill two birds with one stone and enjoy a delicious romantic meal while watching a live show at Washington County Playhouse and Dinner Theater. The playhouse features exciting shows of murder mysteries, musicals, comedies and dancing. Before the show, couples can help themselves to the hot buffet of spinach souffle, baked pasta marinara, battered rockfish, sweet and sour chicken, and yellow cake. The dinner theater is located in the Arts & Entertainment District and tickets can be purchased online.
6. Washington County Museum of Fine Arts
Browse through the impressive collection and exhibitions of over 7,000 objects (paintings, prints, drawings, sculptures) at the Washington County Museum of Fine Arts. You'll find a wide array of artwork from around the world and different eras, from 18th-century Japanese paintings, to self-portraits from the 1500s, to art nouveau style glassworks from the 20th century. Couples who want to explore their creative sides can join several workshops at the museum including bookbinding, photography and watercoloring.
7. Opening receptions at galleries
Win your date's heart by taking him/her to some of the opening reception nights at Washington County Arts Council or the Engine Room Art Space (both in the Arts & Entertainment District). Both of the galleries are known for their hip spaces that display works of talented local artists. They often host opening reception events for local and regional artists displaying their works with the artists on site to talk about their pieces. Receptions at Washington County Arts Council are held monthly and feature different artists. Wine and hors d'oeuvres are served at the receptions.
8. Picnic
Hagerstown is home to some of the best scenic beauty in the Northeast and it makes perfect backdrop for a picnic. Event better, shop locally for your picnic goods first. Head over to PA Dutch Market on Potomac Avenue and buy baked Amish goods like apple dumplings, pretzels and more. For lunch, JB's Country Kitchen in the market offers ready-to-eat comfort food for couples to take with them on the go. Once armed with delicious snacks and meals, swing by High Rock overlook near Pen Mark Park in Cascade for a spectacular bird's-eye view (1400 feet high) of the Mason Dixon Line. Couples can dine on one of the picnic tables on the premises while enjoying the nearby penny arcades, carousels, pavilion, and dance hall (with live music in the summer). Fort Richie is also nearby—an army facility-turned-park for couples to go on hike, bike rides, or rent boats.
9. The C&O Canal
Located in Williamsport, C&O Canal is famous for its important role in Civil War history, and today it can be a romantic destination for couples. Canal boat rides take place at the Cushwa Basin on the C&O Canal during the summer, but in other seasons, guests can enjoy a bike ride, hike or a stroll through the area. After working up an appetite from being outdoors, swing by Desert Rose Cafe in Williamsport for freshly brewed coffee with a side of tasty sandwiches or baked treats.
10. Kayak the Indian Springs Wildlife Management Area
Why walk when you can paddle to see nature up close and personal with your significant other? Located near Clear Spring, Indian Springs Wildlife Management Area offers kayak and canoe rentals for couples to paddle their way through 6,400 acres of wilderness. Lovers can keep on the lookout for over 3,000 species of plants, 400 species of birds, and over 90 species of mammals. The area attracts nature enthusiasts from around the world to catch glimpses of rare specimens and plants. Plan your romantic visit in the spring, as local chefs from across the nation come to Hagerstown to pick wild mushrooms that are unique to the region.
11. Appalachian Trail
The famous 2,200-mile Appalachian Trail travels through Hagerstown, taking hikers past some of the most beautiful locations along the trail. Weverton Cliffs is located on the southern tip of Washington County and allows hikers to overlook an ancient mill town known for its brush with the Civil War and is currently surrounded by lush greenery. While it's not encouraged to thru-hike with your date, a day of hiking will have you and your significant other seeing some of the best nature and wildlife the region has to offer.
12. Wineries
Hagerstown and Washington County are home to several wineries like Big Cork, and Red Heifer. All of the wineries offer their own wine tasting sessions and small tours through their winemaking facilities. However, couples are suggested to check out the RoadRunner Services where they can kick back and relax on a six-hour bus tour through the Antietam Highlands Wine Trail (with several stops at wineries).