December 16, 2015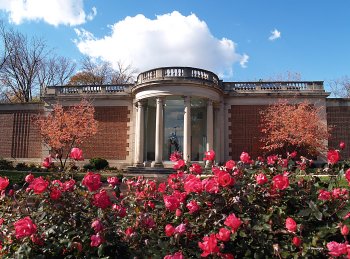 Click on image to enlarge
2016 will be a busy year in Hagerstown and Washington County with anniversary celebrations, the opening of new restaurants and restorations of historical sites. Here are 12 reasons to visit Hagerstown, Maryland, in 2016—one for every month of the New Year.
1. Centennial of National Parks: Celebrate Hagerstown's rich history by joining the festivities of the National Park Service's Centennial anniversary. Among the parks taking part in the national celebration is The Chesapeake and Ohio Canal National Historical Park (C&O Canal). During the yearlong event, guests are encouraged to explore national parks and share their experiences at FindYourPark.com. In Hagerstown and Washington County, you can take off on several trails, including the McMahon's Mill, Monocacy Aqueduct, and the Paw Paw Tunnel. Several volunteers will assist guests through the destinations and give lectures on their importance and history. Find more about top national parks to visit in the area here.
2. 260th Anniversary of Fort Frederick State Park: To dig deeper into history, Fort Frederick State Park will be celebrating its 260th anniversary. The 585-acre park once served as a frontier for the French and Indian War and held its British and German prisoner of war during the Battles of Saratoga. The park was also later used as a gun encampment during the Civil War. Today, guests can see the still remaining fort and barracks. Additionally, visitors can camp overnight, go fishing, and hike along the 23-mile trail at the park that overlooks the Potomac River.
3. 10th Anniversary of the Hagerstown Suns Affiliation with the Washington Nationals: In Hagerstown, baseball is a big deal, especially if you're a fan of the minor league Hagerstown Suns. In 2016, the city celebrates Hagerstown Suns' Class A 10-year affiliation with the Washington Nationals. The ballpark will feature a special 10-year anniversary giveaway during the season, as well as various other specials and promotions throughout the year, including theme nights, craft brew specials and more.
4. Antietam Brewery Bottling Begins at Benny's Pub: Hagerstown's favorite local brewer, the Antietam Brewery, will be distributing its own bottled beer at Benny's Pub for visitors and locals. The brewery creates craft-style drinks like wheat beer, trappist dubbel, golden ale and IPAs. Benny's Pub features satisfying dishes to marry perfectly with the beer of your choice like Maryland crab soup, fishtail BLT with basil mayo, BBQ brisket sandwich and Irish burgers.
5. New Projects Underway at Cushwa Basin and C&O Canal: Just outside of Hagerstown, the town of Williamsport will be revitalizing its aqueduct by re-watering it, and the area will also undergo railroad life projects at Cushwa Basin and C&O Canal. The story behind the historical aqueduct tells a tale of how Union soldiers purposely overflooded the area to prevent Robert E. Lee and his army from crossing into Virginia. In 1924, another large flood caused some damage to the canal, leading it to be permanently shut down. That is, until 2016.
6. Burnside Bridge Restoration at Antietam: In Sharpsburg, the Antietam National Cemetery Museum will be restoring its Burnside Bridge that is believed to be the most photographed bridge during the Civil War. Built in 1836, the bridge was named after Major General Ambrose Burnside who led the attack against the Confederates on the bridge. Today, guests can stroll across the bridge and enjoy the idyllic beauty surrounding the area. The new restoration plans in 2016 will preserve the aesthetics and structure of the bridge.
7. New Primanti Brothers Restaurant at Valley Mall: Primanti Brothers is a rapidly growing Pittsburgh-style pizzeria that is becoming a popular place to get a slice. The Valley Mall in Hagerstown will be welcoming the area's first Primanti Brothers location, making it an ideal spot to unwind after a day of shopping. Other items on its menu include legendary Philly cheese steak sandwiches, burgers, chili and chicken wings.
8. New Pretzel and Pizza Creations Opens in Downtown Hagerstown: Pretzel and Pizza Creations is another fast-growing pizza chain new to downtown Hagerstown in 2016. At the restaurant, which opened in December 2015, diners can order fun dishes like soft-baked pretzels stuffed with various flavors like toffee, peanut butter, and jalapenos and cheddar. All of the pizzas are baked with pretzel crusts, and you can also order pretzel calzones and sandwiches with pretzel breads. Hot dogs are also served with pretzel buns, and pastries include sugared pretzels.
9. Maryland Symphony Orchestra's 35th Anniversary: The Maryland Symphony Orchestra, currently led my director Elizabeth Schulze, will celebrate 35 years in 2016. The 2015-2016 season is currently underway, and upcoming performances in early 2016 include Georges Bizet's "Carmen," Beethoven's Symphony No. 6 "Pastoral" and Gerswin's "Rhapsody in Blue." The MSO has been heralded for its variety and quality of programs, extending its reputation well beyond the borders of Western Maryland. "The MSO has become a cultural gem in the four-state region because of its incredibly talented orchestra members, renowned guest artists and inspired leadership from the podium," says Brien J. Poffenberger, president and CEO of the Maryland Chamber of Commerce.
10. 85th Anniversary of Washington County Museum of Fine Arts: Starting in July in 2016, the Washington County Museum of Fine Arts will be celebrating its 85th anniversary and invites guests to join them. The upcoming celebration will feature a number of exception exhibits, including Foon Sham's "Sea of Hope" collection consistoing of sculptures made from waste materials, "Play Ball! Celebrating 60 Years of Norman Rockwell's 'The Occulist'" from May to October, a retrospective of Mercersburg's William Clutz and more. Guests can browse through other permanent exhibits of 19th and 20th century American art and contemporary works.
11. Red Heifer Winery Expansion: Outside of Hagerstown in Smithsburg, Red Heifer Winery is a popular day trip for wine lovers. Red Heifer is a small, independent vineyard where each barrel of wine is carefully mixed and made with love. Wine lovers can sample many drinks like cabernet sauvignon and vidal blanc. In 2016, the winery will celebrate a new, larger indoor space to accommodate more guests and larger parties for wine tastings. While there, make plans to check out the local sightings of Smithsburg since it's home to well preserved historical buildings and dense woodlands.
12. New Gallery Open in A&E District: In downtown Hagerstown, the Arts and Entertainment district has a gallery called Engine Room. It features local artworks while operating as a public space for the artistic community to network and talk. Guests will notice the gallery's new open space and work area for four local artists who are temporarily living on the second floor. All art pieces on display are contemporary and abstract art.
And if you're planning a trip to Hagerstown and Washington County in 2013, check out VisitHagerstown.com, which has added a Trip Planner feature for guests to plan out their trips. It includes a downloadable brochure, maps, self-guided tours, and a list of great deals and discounted venues in the area. Guests who planning to make a quick weekend getaway or a weeklong stay are encouraged to use this new feature in 2016.