September 9, 2015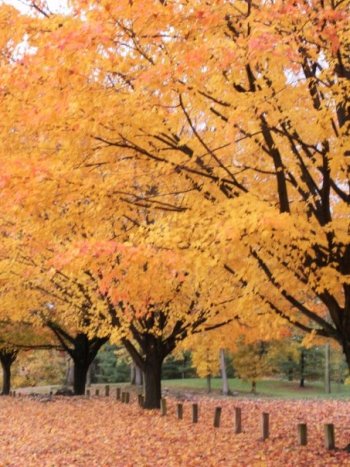 Click on image to enlarge
Hagerstown has been called one of the top 10 best places to travel in Maryland by HomeAway, and fall is one of the best times to visit Hagerstown and Washington County to see gorgeous, vibrant bursts of fall foliage. The area is home to several preserved state parks and destinations that are great spots to visit when the temperatures start to drop. So grab your camera and visit these six places throughout the county for Instagram-worthy shots of fall's changing colors.


1. Sideling Hill Rest Area
Near Hancock along I-70, Sideling Hill is a 3,000-acre area of lush wilderness and mountains. During fall, the rest area transforms, turning into whimsical shades of gold and red. There's a 126-step trail that leads you over large rock formations for a breathtaking aerial view of Sideling Hill.


2. South Mountain State Park
The 13,000-acre State Mountain State Park in Boonsboro is a popular destination for hikers and nature enthusiasts, where thy can explore the various multi-use trails and climb several high peaks like Black Rock and Weverton Cliffs to get a view of the region from above. The Appalachian Trail covers a 40-mile ridge atop this mountain. Start at the Washington Momument, which is the first completed monument to the nation's first president. The view of the valley is spectacular!


3. Gathland State Park
The famous Civil War journalist George Alfred Townsend established his estate and designed two structures at Gathland State Park during the 1800s. Today, visitors can walk among the historic Main Hall and Lodge, now showing exhibits from the era, and check out a national monument dedicated to soldiers of the Civil War. Bring lunch; Gathland has a reserved picnic area that overlooks the park.
4. Greenbrier State Park
In Boonsboro, Greenbrier State Park is a 42-acre area with a man-made lake and beach. In fall, visitors flock to the park to get active with canoeing, hiking and fishing. Public grills, picnic tables and playgrounds are available at the park for families to use and enjoy. Nature lovers can camp overnight to further immerse themselves in fall beauty.


5. Kennedy Farm
History buffs will want to swing by Kennedy Farm in Sharpsburg to see the home of one of the most prolific abolitionists in history, John Brown. At the time Brown was living on this farm, he was already a wanted man. The farm borders acreage from Harper's Ferry and is surrounded by glorious fall colors.


6. Local Wineries
Whether it's Knob Hill Winery in Clear Spring, Big Cork Vineyards in Rohrersville, or Red Heifer Winery in Smithsburg, during fall, all of the vineyards in Washington County have astonishing views of fall foliage. Wine lovers can sample fun flavors like Gold Digger and Jealous Mistress from Knob Hill Winery, Russian Kiss and Vidal Ice from Big Cork, or Blueberry and Catawba from Red Heifer that complement the season.